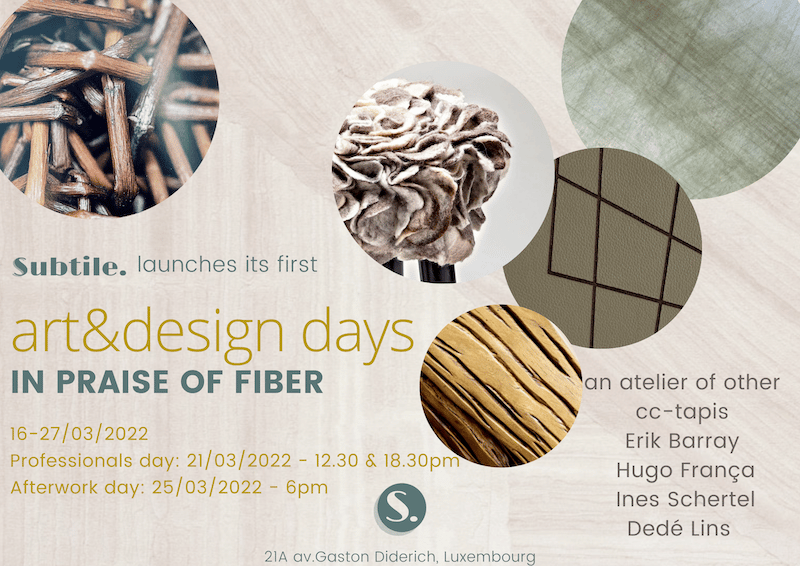 "Man only truly inhabits the world by shaping the materials given by nature, which he works into eternal forms. This is how the doors to the universe are opened" (extract of Erik Barray's book, "Erik Barray, Vannier d'art et d'âme", 2020)
Subtile has imagined for you, professionals and private individuals in love with natural elements, an event combining Art and Design: the

art&design days

.

I strive to think that the border is so thin between art and design, that an architect is a space designer, that an artist dresses our walls like a decorator, that a designer aims to produce unique pieces, with this creative research of the absolutely beauty while adding a functional element to his creation.
Our first edition will focus on FIBER. Plant fibres are either from the seed (such as cotton), the stem (such as wicker, hemp and flax), the leaf (sisal) or the bark (coconut husk). Animal fibres are wool, hair and secretions (e.g. silk).
The artisans-sculptors I have selected have an unconditional love for nature, respect it since ever and give it back. They know how to treat it to preserve it, or they use the naturally dead or unusable parts of it and enable it to be reborn even stronger by their use. They do not mass-produce but are adept of the slow-design so that each piece is produced with passion, it demands time, reflection and adaptation to create and produce it.
Our craftsmen-sculptors-designers come from different countries, some are here in Luxembourg with Singaporean origins, others are located in France or Italy. Some produce in Nepal because the know-how is there, recognized there and very worthy initiatives are set up to keep this tradition within these countries. And finally, we selected 3 Brazilian artists? Why ?
Because the common link is the fiber and the highlighting of our planetary eco-system with the green lung in Brazil.
To compare the Amazon to a "lung" that produces "20% of the oxygen" we breathe is misleading and reductive. The real "lungs of the planet" are the oceans. The Amazon, on the other hand, is of vital importance for the biodiversity and climate regulation of the American continent. Deforestation has unfortunately accelerated again in recent years. From July 2019 to July 2020, deforestation increased by at least 34.5% in Brazil, according to official data. It increased by almost 22% between August 2020 and July 2021. There is still so much to do to educate and keep people aware that the environmental situation requires actions from all of us. These artisans do not mass-produce, do not cut down trees but respect them, and are committed to a sensible and thoughtful approach to design.
Secondly, because I have always been in admiration of the Brazilian know-how which, with very little, highlights the simplicity of a place inhabited by a few key pieces. Finally my meeting with Claudia Mathy, a Brazilian woman, who came to meet me to share the love of her country. She proposed with dignity to put forward these artists who are above all humanists.
If others do not work with a natural fiber, they put it forward with a circular economy approach.
90% of the objects exhibited were located in Belgium, France and Luxembourg, so we made every effort to keep our carbon footprint to a minimum.
We can categorise our designers into 2 categories:
1) And there was light 
     Erik Barray, France
The wicker-craftman of art and soul… and I would add and of his time. From banana leaf to sisal, from yucca to wicker, basketry has existed throughout the world since the dawn of human time. Erik has been serving the soul of wicker since childhood with his creations. The bridges are endless in the land of wickerwork: from simple baskets to creative installations in the biggest cities. Erik bends, twists, knots, stretches, braids, shapes and weaves. While respecting ancient techniques, he finds new ones, exploring the infinite richness of this material. He installs and creates to show lively, inventive and adventurous forms. It is a question of escaping from the weight of the ground, from ready-made ideas, as well as from mental habits. Going towards the impossible and the unthinkable. If the art of basketry is not well known, Erik gives it sumptuous letters of nobility, exhibited on the 5 continents.
Erik is a person out of and of his time that we came to meet by chance during his visit to "Les mains de maîtres" at the end of 2021 in Luxembourg. He is a fascinating artist with 1000 ideas and has no limits. Nothing is impossible, everything is possible. He put art as an essential part of the human evolution, even at night. It is the light-matter that reveals the matter. Light reveals landscapes. He seeks to stage light so that light and nature breathe together. Light-mystery so that you look up!
Erik will be happy to install Cocon-Tiges lamps, Clouds and Voltiges with his legendary know-how in our galery. When technology and nature come together to fill in our interiors and gardens to look for poetry in the sky…and we find it.
     an atelier of other, Luxembourg
an atelier of other is a decentralised establishment, formed by a constellation of independent thinkers and doers hinging between the fields of architecture, matter and art, moulding space and material into tangible experiences. conceived by Marion Delaporte (lu) and Timothy Tan (sg) in 2020, an atelier of other is now repurposing fiberglass reinforced polymer through landscape scenography and urban installation in luxembourg.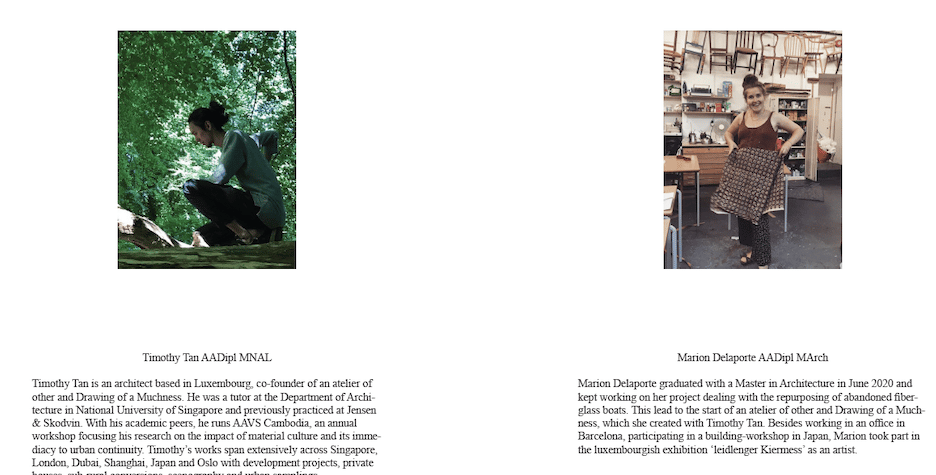 This young couple, who studied in London among other places and who have been working with large scale recycling enthusiasts, have used their knowledge and convictions to develop this cocoon lamp where the fibreglass lets the fabric transpire. The touch is soft and pleasant.
Cocoon is based on their material research project reviving fiberglass. Today they witness a colossal scale of fiberglass waste across our land and sea. Nature is unable to digest synthetic resin and her rejection to this material is clear. Yet they have not found a better way to manage such waste, or to recycle effectively.
Their solution is a light piece that captures the visual and tactile quality of woven fiberglass. thereby turning waste into purposeful objects to further fund their fiberglass research.
In Luxembourg, stacks of fiberglass cylinders are waiting to be refurbished. In this quantity, many here find themselves decommissioned.
an atelier of other work with a local company's fiberglass waste and adopt them, crafting and treating these materials individually themselves
Timothy and Marion will present an installation designed specifically for our space that will combine the different sizes and possible applications of this local (100% made in Luxembourg), sustainable, indoor and outdoor, raw and elegant lamps.
2) Transactional identities
This category highlights the exchanges between man and animal. The sheep, in this case, gives us its wool which it renews. Shearing sheep is essential because the wool fibres grow continuously. They are covered with fat (ooze) which represents up to 50% of the weight of the fleece. This thick coat is a nest for parasites and a bulky garment in summer temperatures.
Both cc-tapis and Ines Schertel want to revitalize the ancient technique of making carpets, which originated from the nomadic tribes of China, Iran, and Afghanistan, by working with their sheep wool by hand. They are using the know-how from the past to produce real, pure, 100% natural carpets, sculptural and functional objects.
    Ines Schertel, Brazil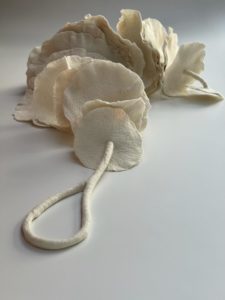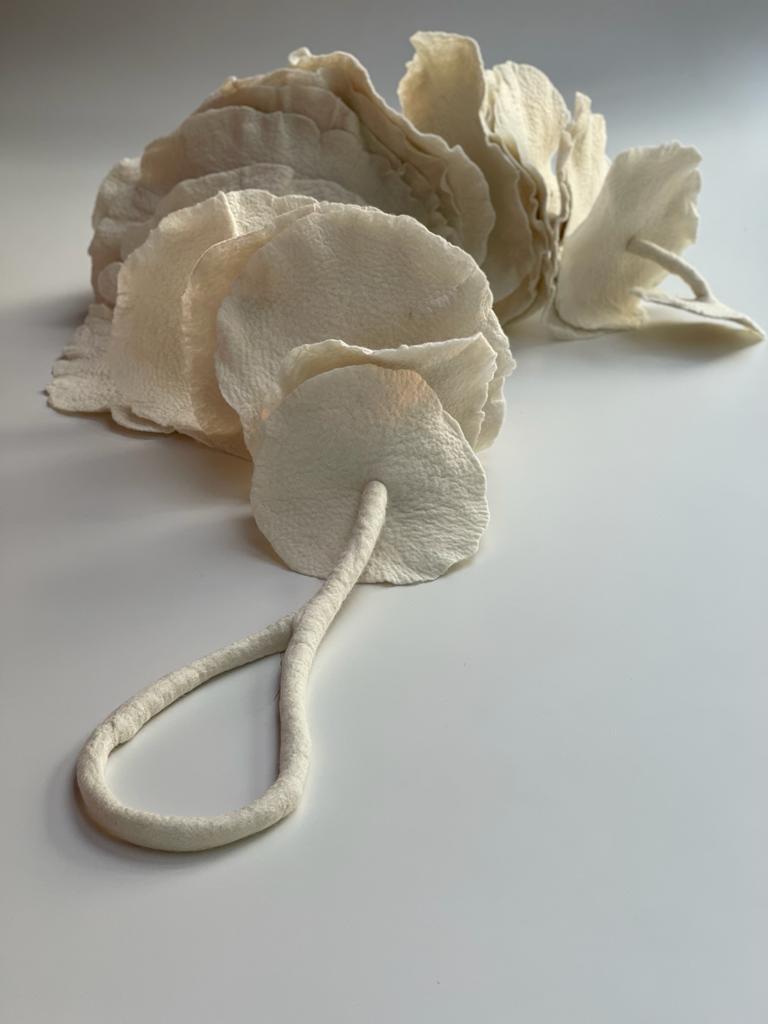 The contemporary textile designer Ines Schertel manufactures versatile items using a six thousand year old technique. Each piece is unique in color and form and are not woven as textiles in a loom, but, instead, felted through the friction of the wool fibers. The combination of friction, water and soap contracts the wool fibers producing the unique pieces of textiles that are real, pure and 100% natural. The wool comes from the herd of merino sheep that are kept in a native camp in her ranch in Rio Grande do Sul, Brazil.
As Ines mentioned, besides the aesthetic and functional aspects, the tactile aspect and the sensations that touching the wool provokes and provides are very important. I believe that this can be improved with the increasing use of natural fibers, such as wool.
We are very glad to present her internationally recognised work. Her compositions are adaptable to your needs: lamps, wall decorations that play a role in soundproofing and soothing or unusual sculptural objects.
     cc-tapis, Italy/Nepal
Why did I fall in love with this incredible brand or should I say art-design philosophy? because those carpets are real art tapestries! To buy a cc-tapis (and not a rug!) is not buying a practical product for the floor but it is like buying a practical art piece that can be sometimes placed on the wall or some other days put on the floor. All depends on the season, your feelings and the need for warmth around you or under your bare feet.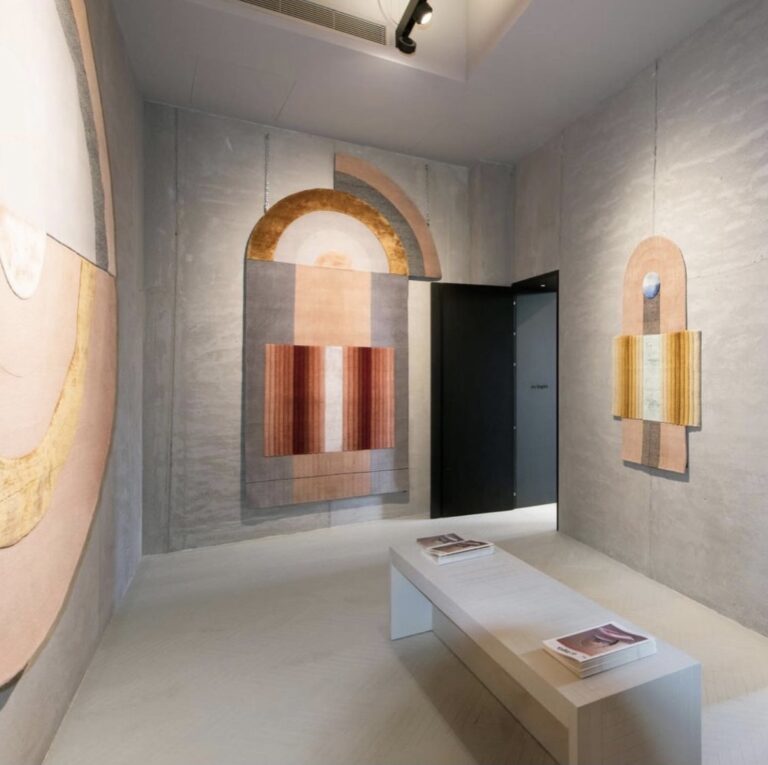 cc-tapis produces hand-knotted rugs which are made in Nepal by Tibetan artisans. Hand-knotting is an extremely fine and complex production technique where every knot in the rug is made by hand.
Over the past ten years, cc-tapis has been re-evaluating these ancient processes to find ways to re-utilize the materials which may be left over after the production of a rug. cc-tapis has explored how to refine and separate the natural materials in order to create palettes of natural undyed wool and silk. Processes that push both production but also the final aesthetics of our rugs.
Subtile has the exclusivity of this brand in Luxembourg and can accompany you in your project to ally modernity and ancient sustainable technics.
Read more  here  
and Discover their huge collection here 
     Dedé Lins, Spain/Brazil
Another noble material which is not often found in art&design because it has become so common for us, however which is incredibly resistant and durable, is leather.
Leather has also been used extensively in creation. Leather was decorated, painted and turned into an art object. The skill of leather workers to turn leather into beautiful useable objects is an art in itself. Leather can be deformed, decorated with seams, painted, imprinted or embossed.
Often the transition of a simple leather object to leather art con't be defined.
Dedé Lins works on merging art and design. From the last discipline he takes the technical and conceptual tools that allow him to transform and operate with a symbolic, systematic and synthesizing purpose. His fragmentos made in 2017 present geometrical engraving laser on leather offcuts. We like the idea that we can caress those artworks to feel this noble material.
Dedé Lives and works between Brazil and Spain
Self-taught artist and graphic designer, Dedé Lins has a degree in Social Communication from the Catholic University of Salvador (1996) and a post-graduate degree in graphic design from the University of Barcelona (1998).
In the late 90s he moves to Barcelona, where he collaborates with several local artists and designers and starts to develop his work in painting. Since 2006 he lives in transit between Brazil and Spain in a process of continuous displacement and catalyst of great aesthetic and conceptual freedom.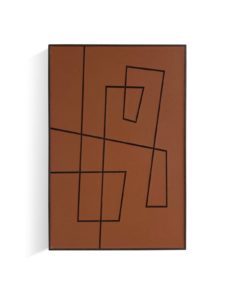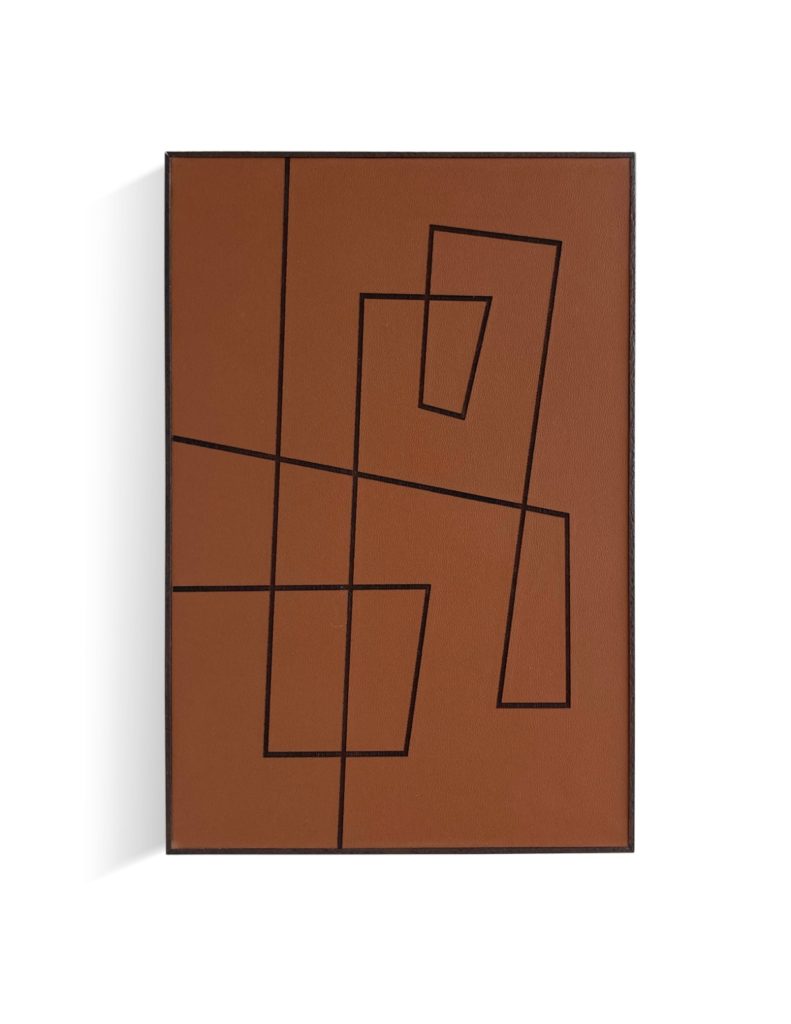 His work is marked by heterogeneity, whether aesthetic, conceptual, material or procedural. His works have global elements connected with personal influences; a frequent interconnection of apparently antagonistic worlds that become complementary.
Using drawing with a symbolic, systematic and synthesizing purpose, Dedé provokes a geometric dialogue of lines and colours, the result of the fusion of contemporary influences such as design, fashion, pop art and street-art. The result are pop and graphic images, with an ethnic, urban and technological look.
Aesthetically he is influenced by African art, very present in the Afro-Brazilian culture of Bahia, and suffers minimalist influences and the far-fetched simplicity, even if unconsciously, of the Brazilian concrete heritage.
He has held group and solo exhibitions in São Paulo, Salvador, Barcelona and Menorca and, in 2010, held an artist residency in Angola during the II Triennial of Luanda. He has also participated in SP ARTE (2010, 2018 and 2019) and PARTE (2015, 2017 and 2018), both contemporary art fairs that and take place in São Paulo.
     Hugo França, Brazil
Hugo França was born in Porto Alegre, Rio Grande do Sul, in 1954. Searching for a life closer to nature, he moved to Trancoso, Bahia, in the early 80s. There, he began to notice the amount of waste caused by wood's extraction and use. This experience made him change focus and become an ecologically-oriented artist.
Observing the Pataxó Indians and the handcraft techniques used in their canoes production, Hugo found the way of turning his ideas into reality. He started creating unique and rare pieces from discarded canoes and wood debris, bringing back a relation between man and Nature that seemed forgotten for a long time.
The pieces created by the artist are made from dead tree trunks, roots and branches. His work is strong, dramatic and sensual. Everything begins and ends in the tree. Its forms, holes, cracks, burn and time marks are his inspiration. The final form maintains the wood's original expression, which conveys to us a history built over centuries by wind, rain and sun along a horizon of time that might astound any observer.
In the gardens of Inhotim, a unique Museum-Park close to Belo Horizonte, Minas Gerais, which houses the largest collection of contemporary art in Brasil, Hugo has his biggest showcase. There are about 130 of his artworks spread across the park, including a few dated back from the beginning of his career and monumental pieces produced especially for the Museum.
The works exhibited during those art&design days are small outdoor and indoor chairs, benches and decorative pieces but Hugo has developed projects for the reuse of forestry waste in partnership with public places in Brazil and the Vancouver Biennale in Canada. The waste was transformed into sculptures and sculptural furniture for collective and public use.
He is also able to produce unexpected sculptural pieces such as this beautiful staircase.Here he wanted something fresh but aligned to his poetics at the same time: naked nature as protagonist.
The works exhibited during those art&design days are mainly outdoor and small indoor chairs, benches and decorative pieces but Hugo has worked for restaurants, public places and is able to produce unexpected sculptural pieces such as this beautiful staircase for a house at Itamambuca beach. He wanted something fresh but aligned to his poetics at the same time: naked nature as protagonist.
Conclusion
Designer pieces from local craftsman will trend in 2022. They are focusing on individuality and to personalize your room for that special connection with yourself.
This event is intended to introduce the public to what fine crafts are all about. There are many galleries for visual arts, but far fewer for fine crafts. There are few venues and few big events like this one dedicated to them.
With fine crafts, we work with our hands, with real material, we transform it.
From one work to the next, the magic of fine crafts is at work. Reflection sets in. And time suspends… its fiber!
Program:
16-27/3/2022
exhibition and open days to all professionals and public
21/3/2022
professional days with 2 design talks in presence of Erik Barray, an atelier of other with Marion and Timothy and Renato Lins (to be confirmed).
@12.30pm
@18.30pm
25/3 7pm & 26/3 12am
Cocktail art&design days to all
Interested to join the above events?  Professionals – Registration HERE
Non-Professionals – Registration HERE