Cathy Deprez, Belgium
Cathy is a ceramist and is one of those creators who are better known abroad than in their own country. Her tiles are made in her workshop in Bernissart. Her frescoes have seduced the big names in interior design. Her work is becoming more and more talked about due to its authentic and creative character.
Find her creations published in ELLE magazine in October 2022.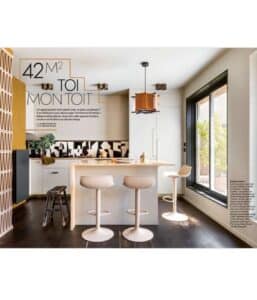 Cathy, initially visual artist, handles the art of clay with simplicity, delicacy and creativity. With her heart on her hand and her hand in the earth, she is a source of creativity. Nothing scares her and everything motivates her: lamps, credenzas, paintings, door handles, dishes, sculptures, trays, aperitif spoons, jewellery…
Notélé, local television in Belgium has recently met Cathy in her atelier. Find her interview Here
A true artist at the service of the beautiful, the local and the handmade in our regions.
Hats off to the artist!
A projet in mind, contact us. Cathy and Subtile will be delighted to guide you at reasonable price to help you to create your unique universe.