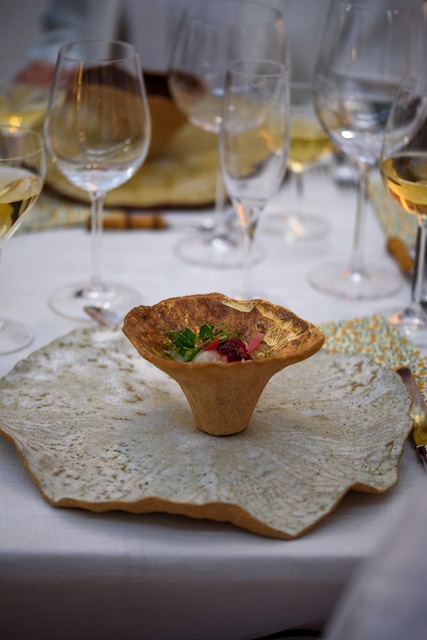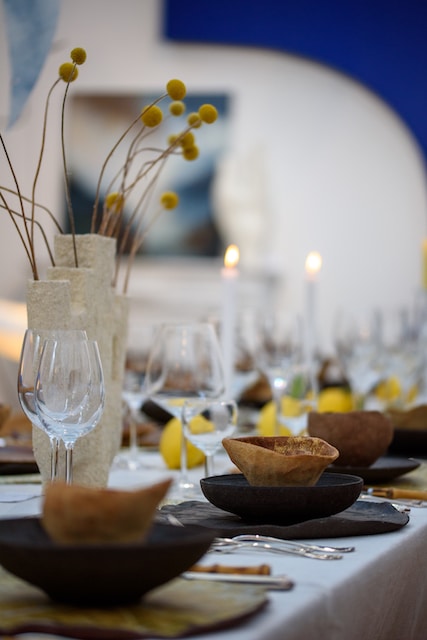 Why not to welcome our collectors, epicurean, hedonist or lover of beauties in an unusual place to celebrate the arts?
Subtile has therefore launched its first ART DINNER. A Unique and temporary culinary experiences around the arts in a contemporary art gallery.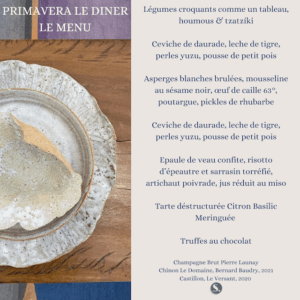 Subtile has invited 28 guests to experience the arts over a meal imagined by a local cheffe – yes a woman –  Dorothee from Pistache Cooking: Healthy, seasonal products and creative presentation for the pleasure of the senses created to embellish the beautiful and artistic tableware made by Eve Alexandre from Arles. We ended this delicious meal by a lemon pipe baked by Fleur from The Little Bakeshop – yes again a woman! Fleur is the pastry Cheffe who collaborates with us for our monthly Afternoon Teatime.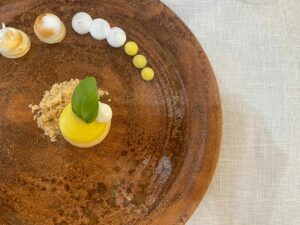 An elegant table set up in the middle of the gallery to share about what surrounds us: elaborate with our artists on the influence of nature or society, inspiration, the imperceptible or the visible, the empty and the full, to be surprised by questioning or apostrophizing interventions in an unexpected way…Raffaella from Artemysia Theatro, Luxembourg has indeed surprised our guests by playing and questioning us by referring to the greek mythology: From ancient times the human being created myths and legends to explain the incomprehensible, and the rebirth of nature was one of them. The seasons of the year ruled the life and organization of civilizations, and spring was regarded as the rebirth of the earth, a fact which the ancient Greeks symbolized with the myth of the abduction of Persephone. By applying the Sinisterra dramaturgy Methodology, she involved all guests into the creation of our own story telling about Primavera.
We had as well the pleasure to listen to the words of Alain, one of our so sympathetic client, who has started to write short stories and share with us 2 of them.
We thanks our artists for their presence: Alexandra Garcia, Eve Alexandre, Stéphanie Couderc, Nina Andersson, Jean-Marc Tosello de l'école d'art contemporain et Esperanza Pallos as well as Isabelle Weill from Hunteed who kindly invited a few of her clients to join that peculiar evening.
Our guests came with a taste of curiosity to appreciate every moment… and they were enchanted by this privileged moment in which the communion of souls worked wonderfully.
Stay tuned for the next Art Dinner.…
More information about our artists