Interior Design: things will be perfectly imperfect in 2022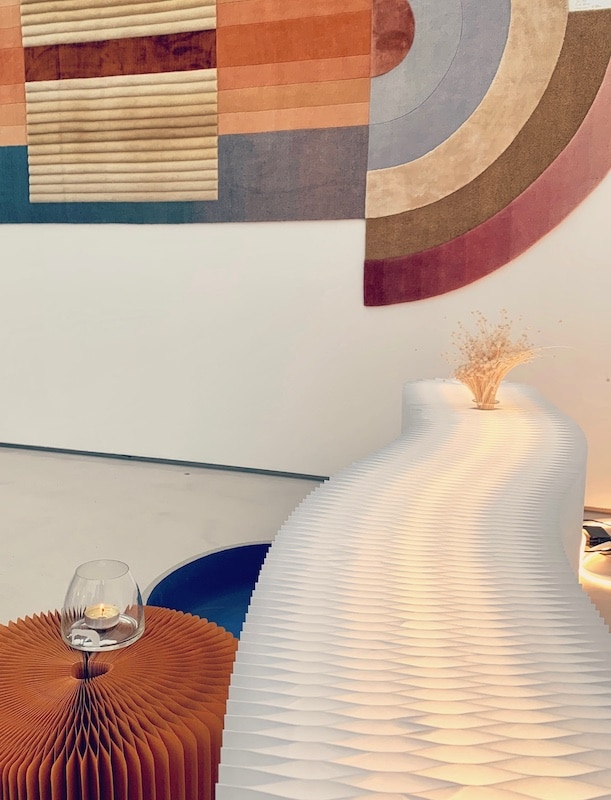 Trends 2022: things will be perfectly imperfect! The trend is to see flaw as making each piece unique. In 2022—our third consecutive year in a global pandemic—the top interior design trends are again focused on making us feel emotionally at ease. We are more and more conscious on how design has the ability to create a certain energy and an influence on our mood.
What I see as going away is the idea of the sterile or one-dimensional white-grey home environment, often seen as 'perfection'. 2022 will bring more imperfection, which to me is a more soulful, natural environment, more personalized interiors that reflect the character of the inhabitants, not a pre-packaged idea of what a home should be.
"The use of raw materials and unpolished surfaces bring a sense of calmness and simple yet sophisticated living" (Forbes, 12/2021)
CURVY SHAPES
Let's appreciate the effects of time, let's not look for straight shapes and prefab materials. Organic shapes are irregular and imperfect. Naturally these shapes will all be slightly different from one another. They are often curved and flowing and can seem unpredictable. Organic shapes can resemble things that we find in nature. In art, a good example is Robert Geert, a Belgian painter and his painting "Algues" from around 1950,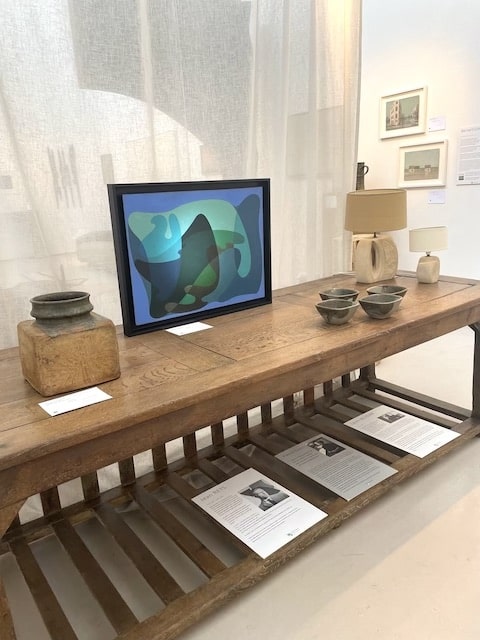 Robert Geerts "Algues" 1950 – Encrier Pierre Culot, 1965 – Draper Table, early 20th century
For your living room this trend can be seen in the SOF SOFA by NORDAL (DK) or the MVPHE armchair by SPECTRUM (NL) , based on the iconic 1968 armchair by Martin Visser, a Dutch designer and art collector. Hard angles, straight lines and cold colours have become obsolete in furniture and more specifically for tables and sofa.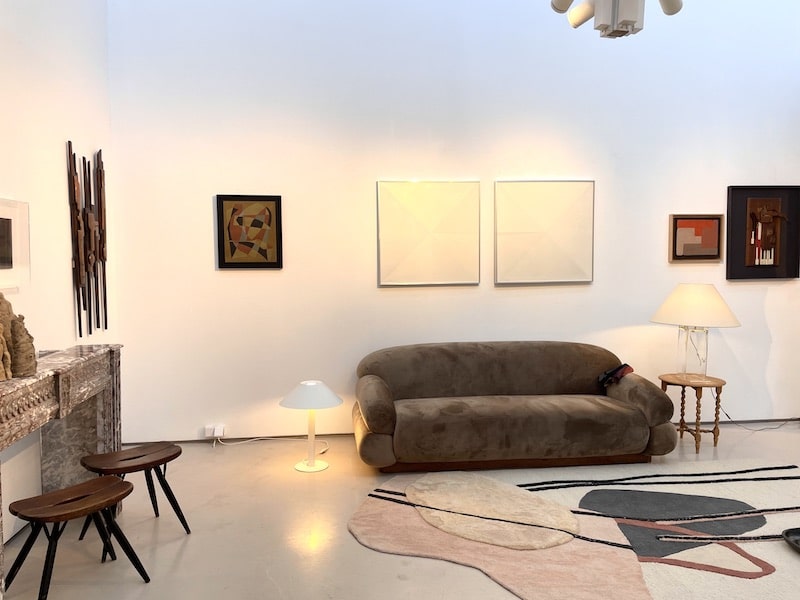 SOF SOFA sofa by NORDAL, DK – CC-tapis Doodle Collection by Faye Toogood, IT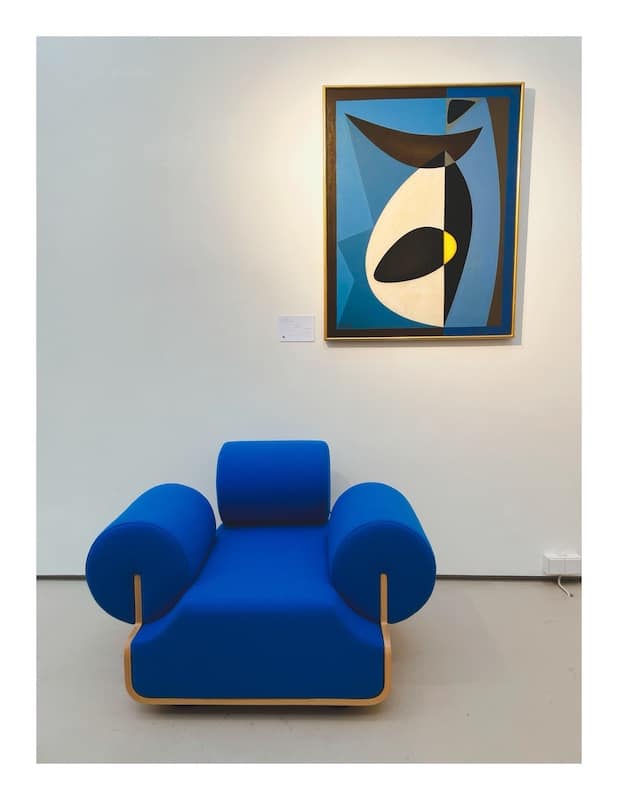 MPVHE Armchair by Piet Hein Eek for SPECTRUM, NL – Limited Edition
Jean Rets (BE), Lahor, 1954
The exterior is not spared either, as ISIMAR's half-classic, half-contemporary models mirror the vegetation that surrounds them.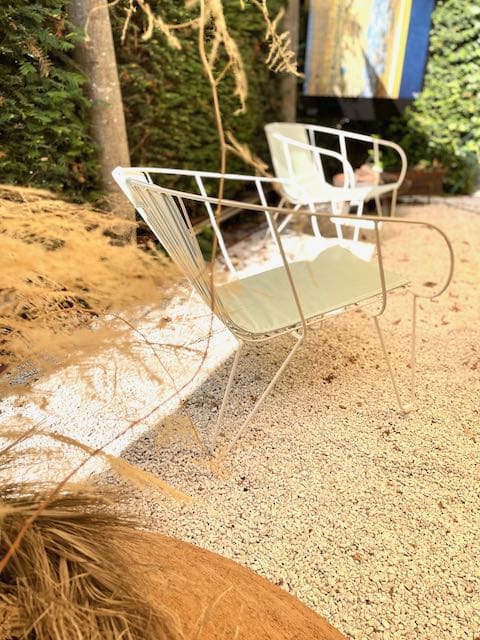 OLIVO Chair, ISIMAR, ES
NEUTRAL AND SOBER TONES
Natural, muted shades of brown and green form the perfect basis for a contemporary interior, enlivened by earth tones that range from ochre to rust and terracotta.
These days we crave warmth and a sense of comfort, characteristics that are not associated with a clinical white colour.
We also attach more importance to a sense of well-being.
We find this inner peace in abundance in nature. That's why soft, muted versions of beige, brown, green – such as the intriguing grey-green – and earth tones, ranging from yellowish ochre to rusty brown, find their way not only into our wardrobe, but also into our home.
Think of the colours of raffia, untreated wool or soft suede, shades that radiate warmth.
When in doubt, choose brown instead of black in 2022!
NOBLE MATERIALS
Wicker, straw and raw wood furniture must be part of your decorative shopping list in 2022.
Many find them banal, insignificant, even old-fashioned and rustic…. However, wooden chairs with straw seats are in fact pieces that are appreciated by design connoisseurs.
Sturdy and light, with a flexible seat, straw chairs (made of real straw or other materials) have many functional advantages. But these traditional seats from the countryside also have great formal qualities. So much so that they have given rise to numerous reinterpretations by designers who have made them objects of their time.
                                                              Wicker chairs of the Bauche type, in Charlotte Periand's style
Erik Barray, a nature lover, master-sculptor and art-wicker with in temporary gestures, serves the should of the wicker since his childhood. His monumental land creations are part of the rural and urban landscape.  We have the pleasure to welcome Erik in our gallery from 14 March where his clouds and cocons lamps will be shown.
                                                      Voltiges and Cocon-tiges lamps – handmade outdoor lamps wicker by the artist Erik Barray
Stone will be one natural texture you'll be sure to see in stylish homes in 2022: Dining Tables, side tables, coffee tables teamed with brass and timber accents – stone is huge and not going away such as the beautiful new marble powder table made in Belgium by  Belgian Designers Nestor & Rosten. Soothing materials based on marble powder, lime and earth pigments create a soft, glossy finish. 35 standard colors and custom sizes: the possibilities are endless!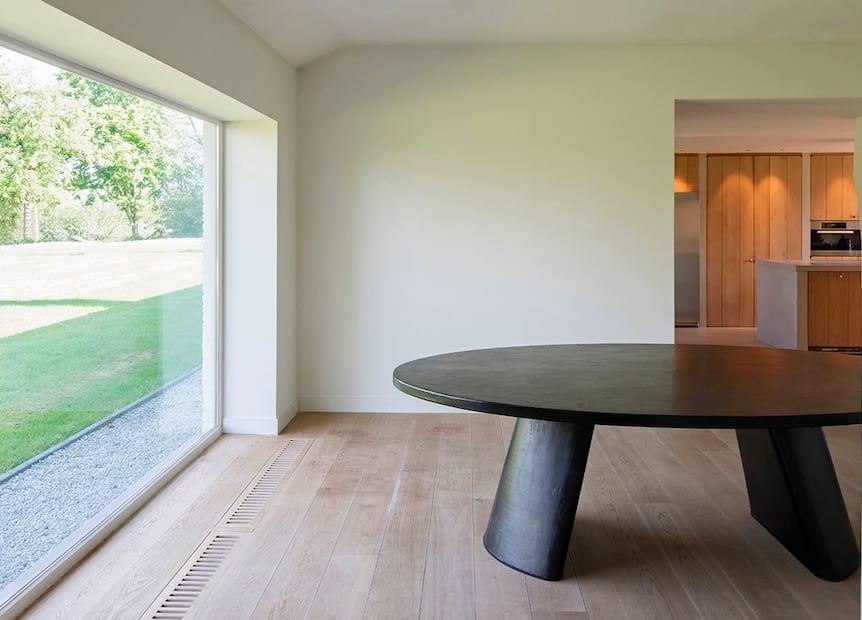 Franklin Table – Nestor & Rosten, BE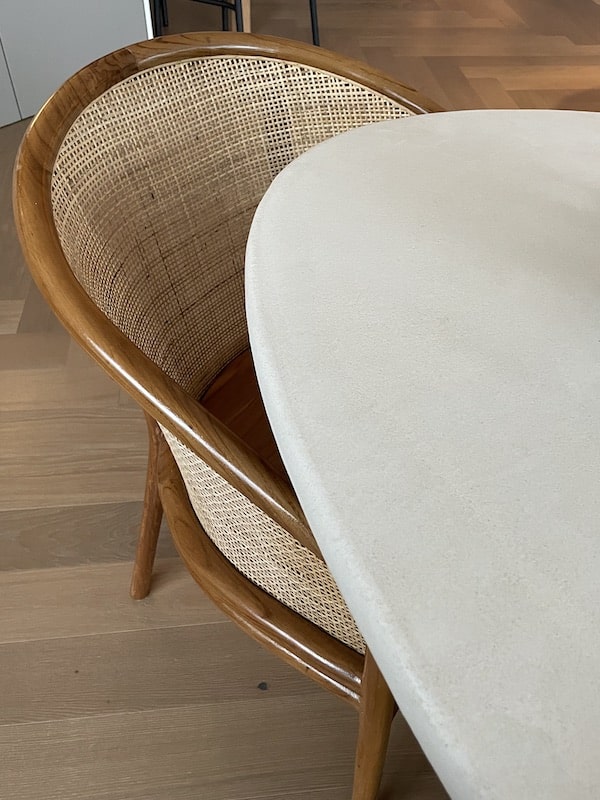 Franklin Table – Nestor & Rosten, BE – Mosso Chair, Nordal, DK
Outdoor furniture can be brought in during winter to decorate interiors in a different way and give them an air of nature and continuity of the warm season. A touch of originality that allows you to rethink your interior.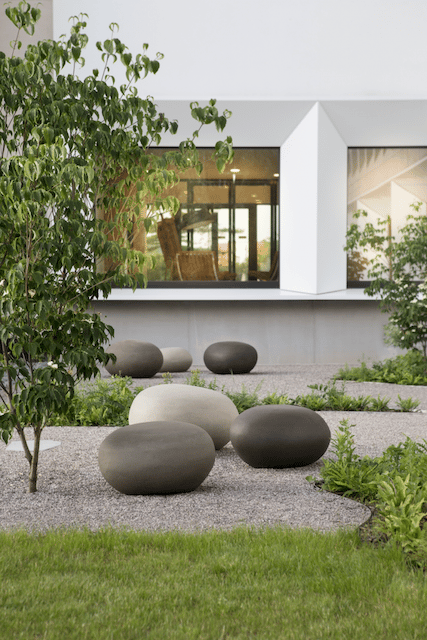 Pebble stone, Atelier Vierkant, BE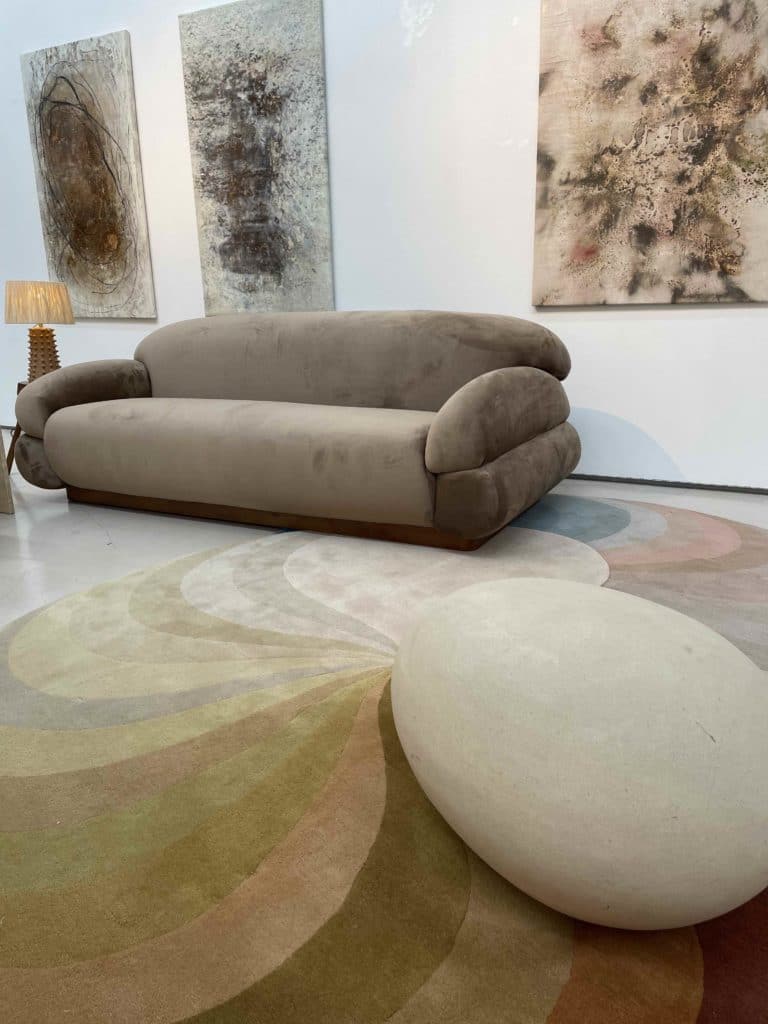 Pebble stone, Atelier Vierkant, BE – CC-Tapis Double Slinkie by Patricia Urquiola
Designer pieces from local craftsman will trend in 2022. They are focusing on individuality and to personalize your room for that special connection with yourself.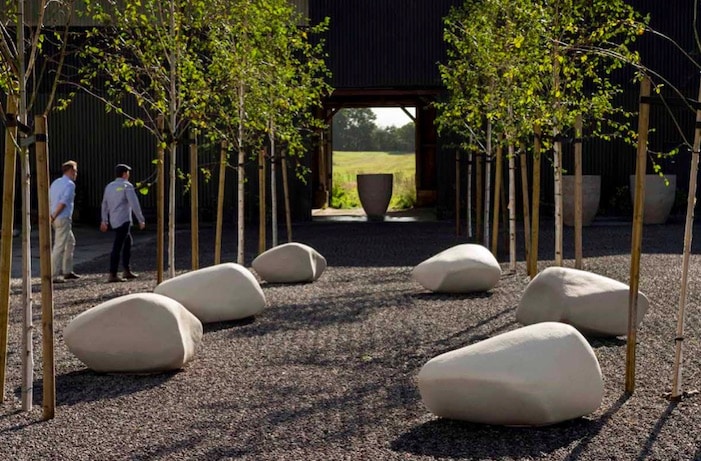 SUSTAINABLE ACCENT
Shipping is our biggest issue for the next year; so locally made will be the new go. Customers will prioritise their purchases, taking time to choose the right piece that they can visualise and imagine in their own space.
Subtile has always defended the need for more conscious purchases, the ones of quality made with a real envy to be different for the planet but for your home as well. We inspire you; we guide you in your choices among a large selection of mid-20th century pieces, antiques or very contemporary ones with suppliers we trust and who have the same approach of beauty and respect as us.
But aside from their decorative propensity, these rare antiquities are stylishly sustainable. By repurposing the old, the damaged, the jagged into something new, we're reducing our footprint while bringing a rich sense of history and spirit into a space.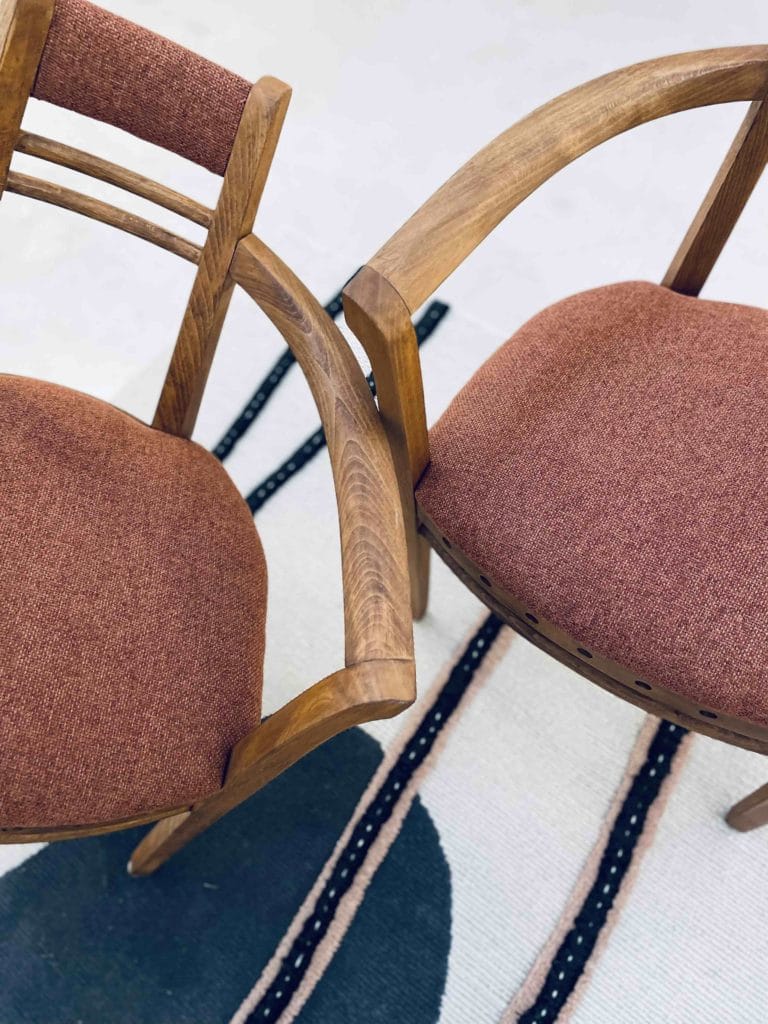 Pair of 1980's chairs, art-deco style, fully upcycled with new terracotta fabric
Forbes magazine highlighted that "Embracing vintage furniture pieces has so many benefits. It is sustainably responsible since you aren't using resources to build a new piece of furniture, and from an aesthetic perspective, it is such a wonderful way to make your space feel timeless. When you include pieces that are from all different eras it's impossible to date your space and the design feels unexpected and fresh ».
OUTDOOR LIVING
Outdoor furniture will become more sophisticated and refined as we continue to spend more time entertaining outdoors, and our patios become true extensions of our interior décor. As an innovation in 2022, our favorite handmade clay pots manufacturers, Atelier Vierkant, has cooperated with Roel Vandebeek, a Belgian product designer, to combine their shared interests. This innovative series of planters, half wire, half clay,  lightweight are easily moved around and therefore particularly convenient for apartments, limited sized spaces or anywhere with a specific need for flexibility. The transparency of the wire leaves room for light to shine through, provides airiness and spaciousness to an extent where even the ground underneath the pot is taken into consideration.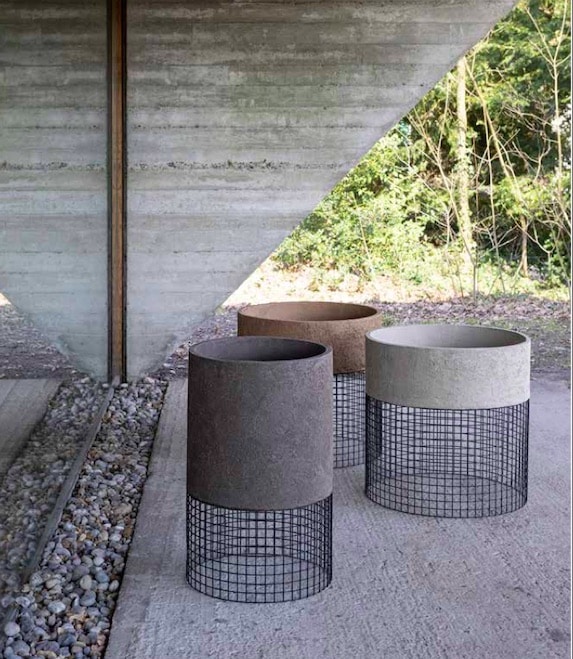 Atelier Vierkant, RVC models, different colors and sizes available
MULTI-FUNCTIONAL FURNITURE
Many of us are looking to get more from our furniture. Lamps with built-in Bluetooth speakers, sofas with storage, collapsible coffee tables that can be adjusted for height and slid neatly under sofas – these are some of the multi-use furnishings that we're loving. As many people must work with smaller spaces and are working from home more, every surface and spot on the floor needs to count.
The concept of multi-purposes element which is a broad category of products that includes transforming tables, decorative-wall rugs, frame lighting. Every object is thought to serve for a different purpose at a different period of the year or the life. Don't buy just one furniture but one, two, three ideas that go with it.
PAN.O , SubtilexPIOP creation – Indoor/outdoor table table that can be transformed into a wall covering, a mirror, a headboard, a screen…
Paying attention to the subtleties will be important in 2022—like how a beautiful Brazilian vintage solid wood arm chair by Jorge Zalszupin can offset an otherwise contemporary home, activating the space, adding warmth and invitation.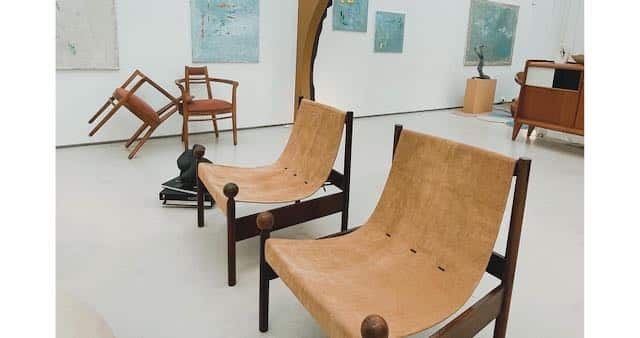 Pair of 1950's OURO PRETTO chairs, Brazilian Designer Jorge Zalszupin
It must be organised in a mysterious balance that feels chaotic as well as calming. This is something I also recognise in myself: a chaos, but the consistency of that chaos creating a kind of balance.
Be brave, be you, it's your home
The desire to have unique things that are not like everyone else's is leading to an increase in mixing materials in furniture design. It is not uncommon to see case goods with wood, metal and stone elements all used in the same piece, to make them more unique and special.
From March 15, 2022 Subtile will launch its first 15 days ART&DESIGN "In Praise of Fiber" Days. A moment during which traditional and innovative craftsman/women – designers – sculptors will share their passion of natural element in shaping the elements given by nature.
"Man only truly inhabits the world by shaping the materials given by nature, which he works into eternal forms. This is how the doors to the universe are opened" (extract of Erik Barray's book, "Erik Barray, Vannier d'art et d'âme", 2020)
All products presented here are available at Subtile. We further propose interior decoration and lighting advices thanks to our network of professionals.
Shop our sustainable furniture & more information