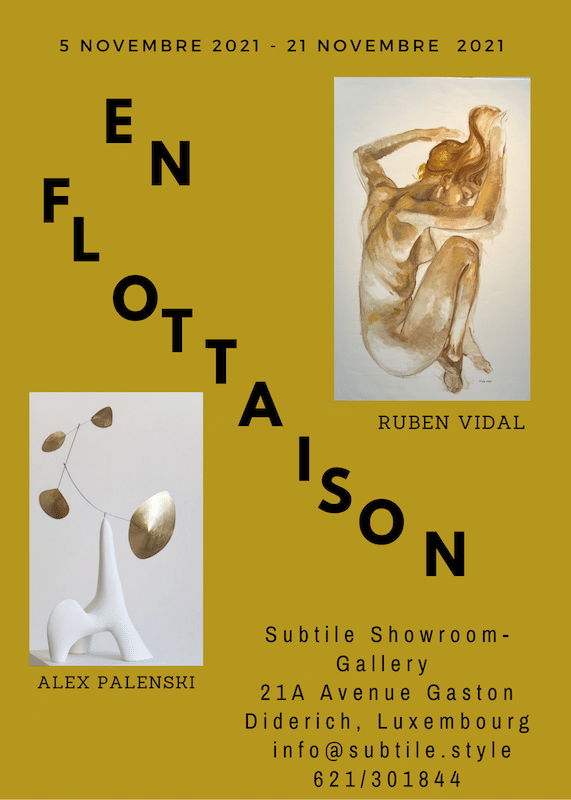 Two great artists to translate their vision of the equilibrium. EN FLOTTAISON refers to the luxury and calm state that soothes yourself and (re)connect with your primary emotions and thoughts. This sensation reduces stress, anxiety, insomnia and pain, and develops the creativity. By visiting this exhibition, you will feel being in a sensory chamber!
Ruben Vidal graduated at the School of Applied Arts of Zaragoza in Spain between 1988-91.
Later he majored in painting and sculpture at the Faculty of Fine Arts "Santa Isabel de Hungría" in Sevilla (Spain, 1992-96) and foundry in the Fine Arts Accademy of Florence (Italy, 1996-1997).
After living and working between Spain and Italy for commissions and exhibitions he settled in Berlin (Germany) in 2010.
Ruben has made an impressive number of solo and collective exhibitions in Spain, Italy and Germany.
The series presented here refers to the limbo, a pretty lonely and empty place to be, a place where you are waiting for something to change. Those women bodies are weightless, floating in nothingness or reality. Discover as well his beautiful landscape paintings. Ruban is a great technician painter who does not let himself be submerged by emotion but who transcribes those of his characters with delicacy!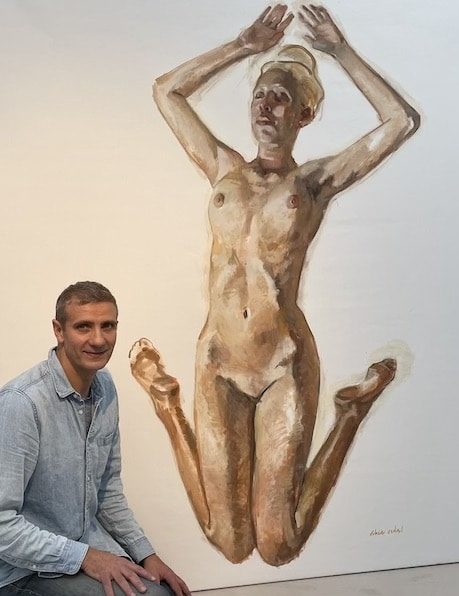 Alex Palenski is a sculptor who lives and works between Paris and Normandy. With a builder's mind and a mastery of direct metal, he creates mobile sculptures, graceful compositions that capture the movements of air and light.
Working mainly on the plasticity of metals, he has developed his own vocabulary of curved and taut volume forms that he works in the manner of a goldsmith. Like interior jewellery, his precious and delicate sculptures are all unique stamped pieces.
We had the chance to meet Alex in one of his atelier in Paris where we understood the amount of work and patience the realisation of those sculptural mobiles and stabiles required. He melt and sculpt the support of the stabile and cut and assemble the flying parts. Extremely thin Aluminium, brass, stainless steel sheets are handled to bring this delicacy and lightness. His grandfather, a furniture designer, is certainly an important and influential link in the dexterity that Alex has inherited.
Alex has been featured in prestigious magazine like Milk decoration, Elle Decoration, Marie-Claire Maison. We have made a selection of about 10 stabiles, less commonly exhibited. However, Alex makes beautiful and very impressive mobiles that are available upon request.