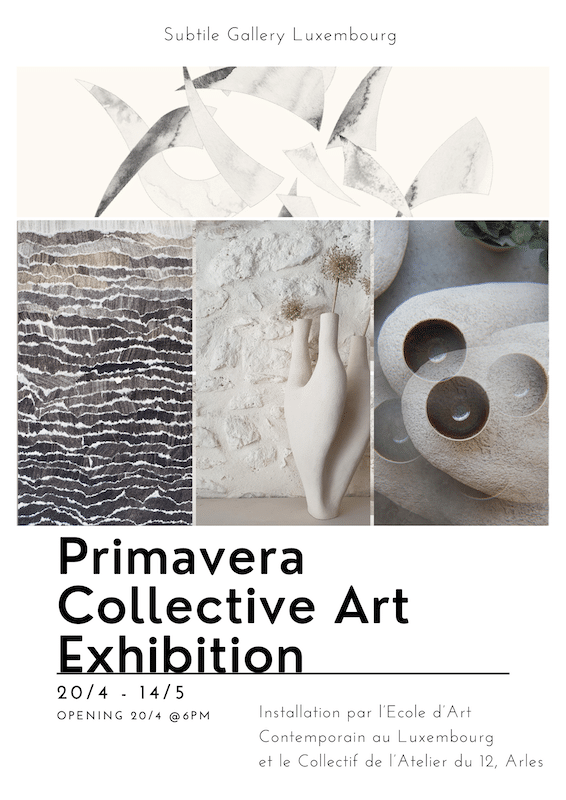 Primavera evokes the spirit of renewal and rebirth of nature. A collective exhibition for which 7 artists have captured its blooming and flamboyant spirit. Through the transformation of papers and clay they celebrate the season's unique beauty and rejuvenation. Nature and tradition inspire our artists to create paper collage compositions, stunning molded pottery, abstract scrulptures or yet paper installation. The bright colors and fresh scents of spring inspire artists to create vibrant and lively works that capture the essence of the season: getting back to our roots with the richness of our soil and looking back to the lightness of the paper like a comforting breeze.. Visitors to the PRIMAVERA exhibition can enjoy discovering the diverse techniques, styles and interpretations of those artists and experience the joy and wonder of touching the untouchable.
For the exhibition, we have 2 artists' collective, one from the Contemporary Art School located in Luxembourg under the direction of Jean-Marc Tosello and 4 of his students and a collective from Arles called "L'atelier du 12" composed of 3 wonder women:
Stéphanie Couderc, graphic designer, teacher and visual artist works and exhibits her work in Arles at the Atelier du 12 with Eve Alexandre and Alexandra Garcia.
After studying at Penninghen, where she taught for several years, she worked as an art director in Paris, travelled in Europe and settled in Arles in 2017. She is currently working on monochrome collages made from papers that she paints and then tears up and composes. An elegant and sensitive work around the tears that she leaves visible and that by its organic lines give birth to compositions sometimes abstract and sometimes figurative. Her wefts, like weavings, can evoke natural elements such as bark, forests, the sea or the mountains. "Tearing, creating rupture, exploring the line, following it, cutting it, continuing it, interrupting it, taking it up again, suspending it, stretching it, mending it, gluing it, starting again, weaving…".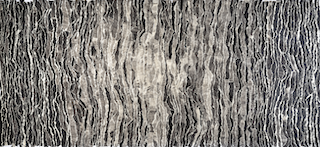 Eve Alexandre,
In the first part of her life, she studied the Arab world and then made documentary films.
She learnt alternative pedagogies dedicated to early childhood and managed a "school in the woods" in the Cévennes.
She then learnt ceramics and its technics in Paris with Grégoire Scalabre.
Today she is a ceramist in Arles and shares her workshop, l'Atelier du 12, with Alexandra and Stéphanie. She shares her activity between teaching and her creations.
"Working with clay has been with us since the beginning of time.  By turning the clay, I am part of this lineage of turners that goes back to prehistoric times.  I reproduce gestures endlessly repeated by others and yet always new.  I explore as a total experience, in the manner of children: the sensation, the form that springs from the gesture.
The clay is like a door to the nature from which it comes.  Through the forms that develop between our fingers we understand the push of the mountains, the density, the lightness, the stocky and the erect, the centre and the spiral,…
I am particularly sensitive to this aspect of the earth and the shapes that come out of my wheel are more organic. I like to leave the material raw. I often work with grog clay which, once fired, takes on the appearance of leather, wood or rock.
In the infinite and varied vocabulary of forms that permeate our collective unconscious, I am nevertheless touched by the most refined. I try to approach the essence of the form, to find the simplest and most essential lines, so that in the immobile nakedness of the object, the movement that animates it manifests itself.
My latest pieces are interested in the movement of blossoming, of flowering at work in nature.  They are part of a collective creation by the Atelier du 12: "Métamorphoses"."
Sculptor Alexandra Garcia is based in Arles in the l'Atelier du 12.
Her artistic process is research into the median void, the quality of space between. Between things or between beings. This space, that she sees as dynamic, seems to be able to model the clay and imprint its breath on it. Her hollow sculptures in twos or threes dialogue to better demonstrate and play with space and the way it circulates.
Nina Andersson, Esperanza Palos Ferrer,  Anna Frisova and Emmanuel Bellery under the supervision of Jean-Marc have collectively created a unique artistic paper installation for the gallery.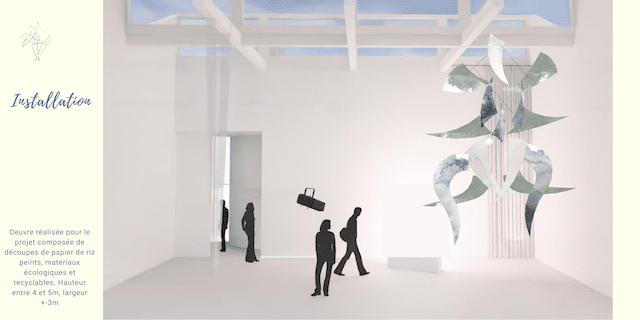 Jean-Marc is an art professional who has already trained over 1500 students. He was fascinated by Subtile space for its luminosity and timeless design. Combining this chapel aspect, my passion for fabrics and materials and our common philosophy to promote art and the creative part of each of us as a sign of Life, it became obvious to involve a group of students of the school to facilitate a collective work.
"Primavera" is an art installation that rises and unfolds like a graceful figure referring to Japanese imperial robes under a sculptural rain of light. In the tinted glitter and fine lightness of rice paper, she embraces the spring breezes, those which touch the hopes of the sensitive in search of the Word and the Visible.
"We sought to capture its blooming and flamboyant spirit, each colour chosen representing the beauty that emanates from it. The collective set out to create a unique, thought-provoking piece about the beauty that can be created when working in symbiosis"
 Light and colour announce themselves, desire and hope present themselves in a lightness. . The visitor must melt under the installation, swirl around in it and its twirls. To touch and feel the movement. Are the colours real or illusions? Ephemeral as youth and passion, let us seize the brief moments of life.
Further to this installation, Nina Andersson, Luxembourg-based artist will present some of her paintings and drawings. Nina studied at Konstfack, university college of Arts, crafts and design in Sweden. After a few years as an interior architect, she decided to dedicate her full time to acrylic's paintings. Her blurred landscapes remind us the essence of impressionism as an art style of perception rather than reality.
Impressionnism emphasized the use of natural light, unblended brush strokes, and strong colors. Nina's art style renders not the landscape, but the sensation produced by the landscape.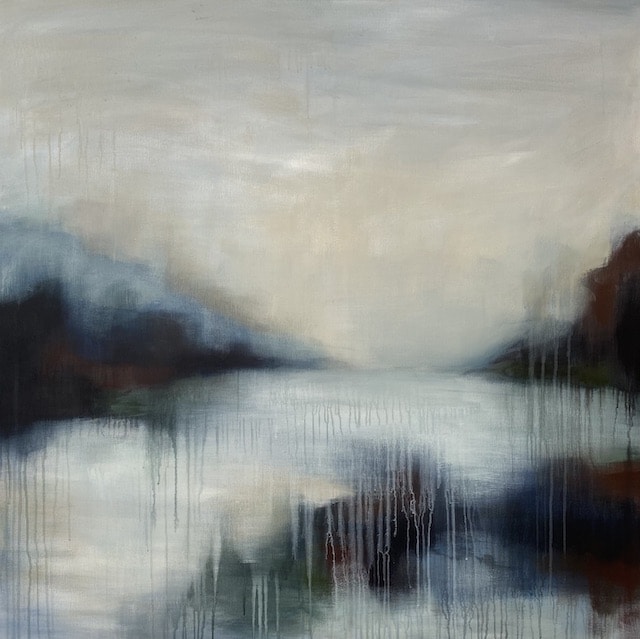 Opening on 20/4/2023.
This collective exhibition will be visible to the public from 20 April (opening) to 14 May 2023.
We also want to dedicate at least 2 days to receive schools or institutions around a snack offered by the gallery to exchange directly with the artists.
The project invites visitors, and therefore young people to experience the rebirth of spring with Primavera in a subtle game. We want to offer a practical workshop on cutting and collage. Interested by this project and workshops? Contact us
We strongly believe that Participating in cultural activities broaden children's and young people's thinking and coping skills, and to boost their self-esteem, which ultimately affects their academic performance and approach to violence.
And we want to contribute to that awareness as an engaged gallery.
Registration Form