On Sunday 3/12 @11 am, join Cathy Deprez, Belgian Artist and Ceramist for a 1.5h workshop around clay art expression.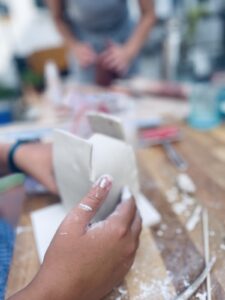 Working with clay can be a therapeutic and fulfilling experience, offering numerous benefits for physical and emotional well-being.
Clay art therapy offers numerous techniques that help to improve mental health and psychological well-being. One of the most effective techniques is hand-building, where individuals use their hands to mold the clay into different shapes and forms. This technique helps individuals to connect with their inner selves and helps to alleviate stress and anxiety.
To create and re(create) around a medium as rich in sensations as clay.
A meditative moment for yourself. A re(connection) to yourself and a strong feeling when you realise that you are capable of making an object, useful or not… in any case a creation of yourself.
"Clay work promotes expression of mood and feeling. It allows the participants to experiment with texture and touch by molding, shaping and manipulating the clay. Pounding and kneading the clay offers a healthy way to exert excess energy. Gently molding, stroking and smoothing it lessens stress and anxiety" (Buchalter 116). 
Cathy has been trained in UMONS, Belgium in music-therapy, support to people, psycho-corporal workshops, initiation to breve therapy with the teachers Bruno Humbeeck and Benoît Demonty and she gave workshops with a certification of therapist with the psychologist Mathilde BUONOMO. This associate to her talented artistic approach, invite you to experiment your creativity. Not only with the different types of clay, but also with simple and fun decoration techniques.
Each person is unique and will be able to create their own piece, abstract or figurative.  I'll be with you every step of the way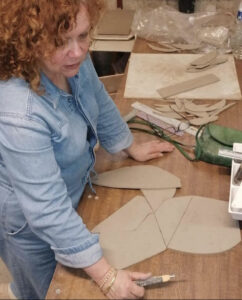 Bring an apron or clothes that can get slightly dirty.
Bring a dish towel and a personal notebook for notes (drawings).
Materials and clay are provided.
Firing (2) and glazing are included. your creations will be fired in Cathy's atelier and will be delivered in the gallery before end of December
The workshop lasts 1hour and 30 minutes of which are reserved for tidying up the space.
We shape and decorate in good spirits!
Start time: 11am
Duration: 1.5 hours
Price: EUR 55
min 6 people, max 10 people
Language: FR, (but EN possible if needed)
Registration required
A few of her incredible creations: