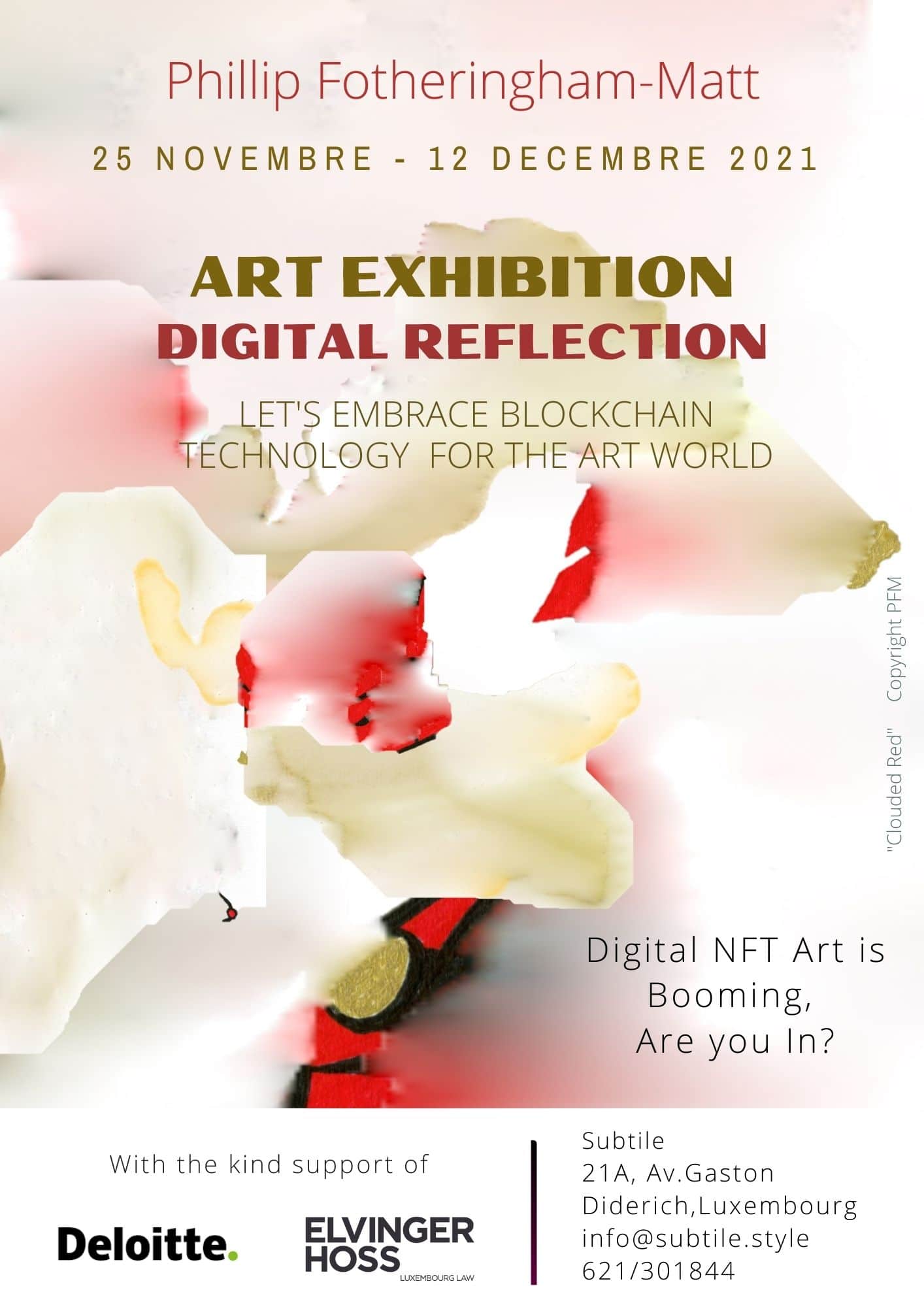 Digital NFT Art is Booming, Are you In?  Phillip Fotheringham-Matt and Subtile are!
With the Kind Support of our Partners Deloitte and Elvinger Hoss
It started with a body balance, then a hand and it ends on a distributed ledger.
As Phillip Fotheringham-Matt, our English artist who lived in Luxembourg for a few months explained: "There was lovely woman called Annie that was one of the yoga course teachers. As part of the coursework we all had to keep a journal. Annie read my journal, when we sat to discuss our coursework she said that she thoroughly enjoyed reading it and that it will turn into something else.  I did keep writing in journals and at some point began drawing in these journals. Still today I write daily and most of the drawings are made in sketch pads."
Each drawing came to life, growing and changing into new and exciting images. Often it was such a surprise to see how the computer programme simplified or exaggerated colours, shapes and direction. It was as if each drawing began a journey of it's own.
When asking the question of how he feels when drawing compared to digitally transform his work: "Finding the difference between drawing on paper and creating on a computer is that the computer can make a task like colouring in a space easier. It does not have the same affects as by hand. A computer is a little more consistent. Although as I practice more by hand the technique improves. What will happen when I can use a digital pen who knows ? »
For SUBTILE, a young and innovative gallery, art and technology can be perfectly combined without overshadowing classical art. It is an additional path, adapted for art thought as such, that we must explore.  The choice of the blockchain technology and NFT's (non-fungible token ) was obvious for me, when I met Phillip a year ago. I like challenges and believe that despite the increase in direct online sales on platforms and the corresponding elimination of intermediaries, galleries and auction houses must move towards online sales and have still a role to play in that new world.  The appearance of new buyers of Art such as young "startup" or Geek in search of consumption outside conventional circuits are an actual trend. Looking at everything on screen including art has become a habit for them -no doubt -generated by the multiplication of virtual visits proposed by many Museums and since a few months some galleries. The 2021 Deloitte Art and Finance Report shows that 64% of younger collectors expresses a strong interest in NFT compared to 18% of old ones.
Different studies showed that mass adoption of NFTs is under way.
NFT mania continue to explode: major famous institutions (VISA,…), entrepreneurs or artists jumped into the game. The attraction is mainly linked to the artists emphasis, technology with more resilient systems and the community aspect. Any nonfungible tokenized asset is minted on the blockchain and is traded with cryptocurrencies. The authenticity is unquestionable and put a value to digital art. From crude or cartoonished art projects, it continues to evolve towards generative art which are purely cryptoart (coded patterns, video, projections), more financially accessible but still with this desire of scarcity and unpredictability.
For this exhibition, on which we are working for more than a year, potential new crypto-buyers need to get reassured not only on the technical perspective but on the legal framework. This is why we are very excited to be supported by 2 big and reliable players of the Luxembourg market: Deloitte et Elvinger Hoss Prussen. We want to 'decomplex' the still layman's view of the public by talking about it, making noise and accessible for all – and specifically women by proposing conferences and master classes on the subject. As a gallery we have an educational and societal roles that must be aligned with Luxembourg's active positioning on new technologies and creativity. Our aim is therefore to encourage interest, discussion and involvement in using the blockchain in the art ecosystem to get the maximum benefit out of a new technology with such enormous potential.
But Being aware of the energy-consuming nature of such platforms,  the creation of more energy-efficient platforms like Tezos, gaining in popularity, has taken all our attention. This is definitively our choice of minting places for Phillip's NFT's.
Some can wonder how do you display this digital-only art once you've bought it and How do you present something as intangible as a digital file in a real-world setting?
In terms of displays, art collectors or buyers – and we first, still appreciate the physical approach to art. This is why Subtile has a setting to share with you design ideas that will fit into any interior.
The first thing to hit you upon entering is a riot of color and light from a wall with a screen displaying Phillip's animated NFT artworks. The advantageous aspect of NFT's is that you don't have to have a hundred screens, but you can have some in rotation in your living room's TV screen or dedicated display or even on your smartphone that you can proudly show as being the sole owner of it. Your art acquisitions follow you in your daily live and moves.
As our gallery sells as well collectible furnishing and objects, we have developed in collaboration with a wood designer, Atelier Canopée, a design wooden column in which a nano-projector is integrated. When visiting the exhibition, you will not only buy NFT's art but as well the supports to enjoy it immediately at home.
And Phillip to conclude: "I am very excited to embrace new ways of selling my art. Subtile gallery made a great work in integrating me with the emerging space of NFT's. Are you in?"
Please Register Here to attend the event on 25/11 from 6pm