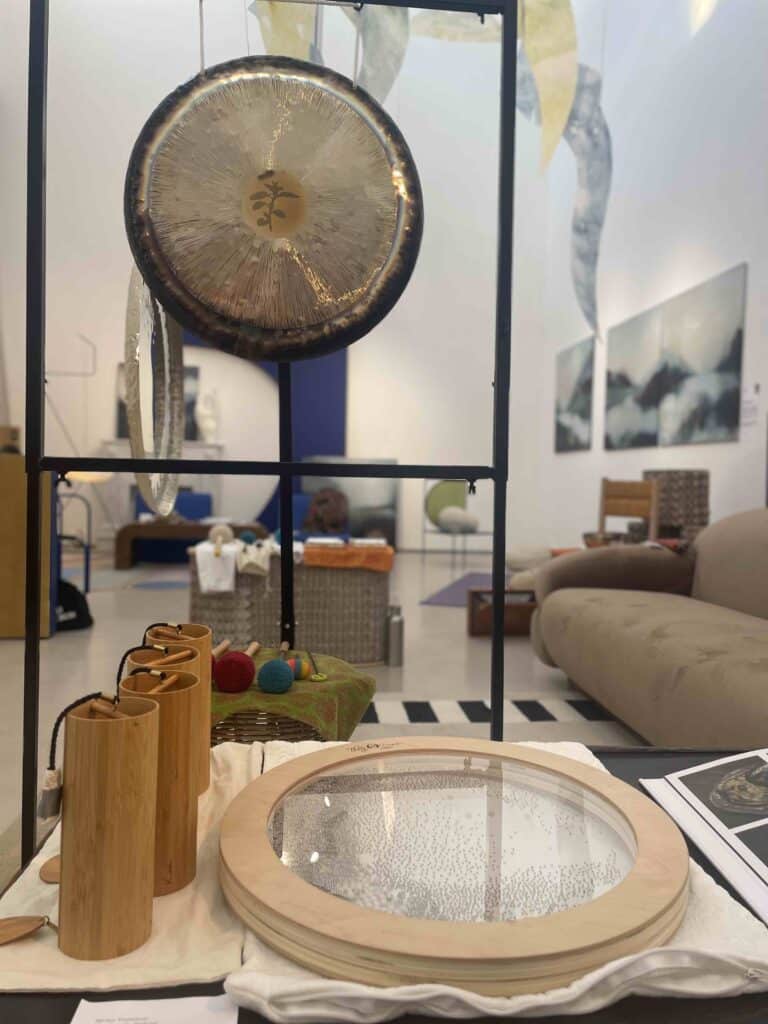 After the success of our first 2 sessions, we are glad to announce a new date for A GONG BATH to dive in an ocean of good vibes and to nurture yourselves ( the last one of the season before a fresh re-start in September)
6 p.m.: Tea time & overview of yoga products (DK Brand) and natural scented candles
You can come a little bit earlier to drop your mat and enjoy some tea while discovering Subtile's products and exhibitions. A restful moment with us or your friends. Our new exhibition "Douce Insolence" will surround us during that session.
6.30 to 8 p.m.: Gong Bath, a sound journey
 The Gong is a holistic, powerful vibrating instrument: it produces waves of sound that one can physically feel in the room and in the body, giving the impression of being immersed in a sound bath.
The vibrations penetrate the skin, reach the bones and cells, allowing the body to resonate fully. The richness of the sound, full of harmonics, enables deep relaxation of the mind and emotional harmonisation.
The journey is however unpredictable, sometimes relaxing, sometimes energising, depending on each one's sensitivity.
Complementary intuitive instruments are used to enrich this sound experience.
We will start the session with a greeting ceremony and a meditation and end up on a smooth waking up followed by a time for sharing, if wished so.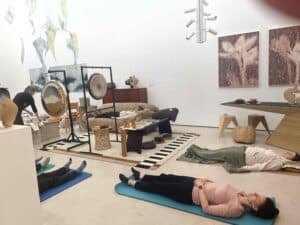 If this is your first gong experience and you have questions, don't hesitate to contact us for further information at the following email address: terra.incognita@pt.lu
 It is important that you feel comfortable, as you will be lying down for 60 minutes or more, so bring what you need to feel cosy: a thick floor mat and some cushions for your head and legs, something to cover your eyes, a blanket, etc…
An option is to sit on one of Subtile's comfortable vintage armchairs (limited seats).
 Wear a comfortable outfit that leave your stomach free.
« Gong vibrations only ». If possible, please leave your phone at home or in your car.
Otherwise, we will ask you to switch it off and leave it at the entrance.
We look forward to welcoming you for this deep experience.
Valérie Schiel has always been fascinated by the voice. Trained in acting, she worked as a casting director before developing a real passion for sound and free singing. For her, music is more than entertainment: it is pure presence, it is movement and colours; waves of sound and waves of light. Intuition and improvisation are guiding her. Gong is the perfect instrument to match her voice, just as free and unpredictable.
A MUST try workshop! you will be amazed by the effect of the sounds on your soul. Book your place, it is limited!
By assisting to our events, you understand that photos will be taken and that some might be published on some media.
No reimbursement if cancellation occurs less than 24h before the start of the event. Thank you for your understanding.