"In the realm of production of objects, the phase of colour application is normally seen as the final act of the process. Instead of finishing a product by just painting it, I started designing from colour, wondering about what it would look like if I stretch, turn or fold the colour as if it were a three-dimensional shape" Germans Ermičs
Germans Ermičs was born in Riga in 1985. He learned the basics of design and art in Denmark, later studying at the Design Academy Eindhoven in the Netherlands.
In 2007, together with friends in Riga, he founded the culture, music and fashion magazine Veto. Germans Ermičs created the design concept of the printed publication and continued as its artistic director until 2018.
Having started his career as a graphic designer, during his studies in Eindhoven Germans Ermičs gradually turned to making three-dimensional objects. This is the beginning of Germans' fascination with colour and its ability to influence the objects' form, surrounding environment and viewers' perception. Germans Ermičs graduated from the Design Academy Eindhoven in 2011 with the diploma work Isometric Mirrors, in which he makes use of interest in optical illusions. His project was picked up by Frame, the leading global interior design and architecture magazine, and at the graduation exhibition Germans Ermičs was approached by the influential Milan gallerist Rossana Orlandi, with whom the designer continues to collaborate to this day.
By combining design and art, Germans Ermičs creates outstanding work, acknowledged and highly acclaimed across the world. The designer's approach is characterized by gradual, determined movement to the final result, striving to give form to intangible phenomena, looking for new technological solutions and experimenting with colours and materials.
Germans Ermičs. Shaping Colour Installation. Design Miami / Basel, 2021. Glass and wood installation. Courtesy of the artist. Photo: James Harris
The distinguishing feature of the author's style is the employment of painterly approach to colour in works made of glass – the transparency of surfaces of his furniture is accompanied by gradual tonal transitions. However, colour in Germans Ermičs' works does not serve as merely an aesthetic application – the artist uses it to explore materiality and create form.
Germans Ermičs. Design for the LUX restaurant. Kongresshaus Zürich, 2021. Glass. Photo: Julien Vonier
Although Germans Ermičs' conceptual ideas have mostly been executed in glass, the designer also works with metal, textile, stone and other materials. They are used both in his experimentations with colour and form, and innovative technologies, for example, coming up with an original surface finishing that highlights stone's natural veining instead of submitting it to the laws of geometry.
For his collaboration with cc-tapis, the Tidal Collection is the result of Germans Ermičs' exploration of the symbiotic relationship between color and ornament interpreted with a soft fade effect which is the result of a new coloring system combining threads of Himalayan wool in alternating saturations.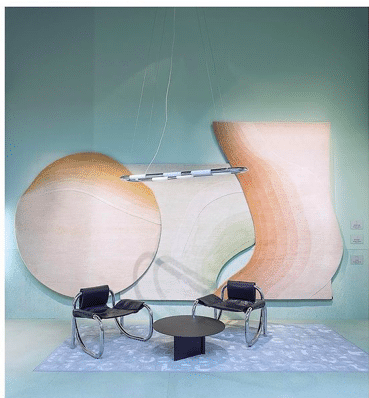 Tidal collection, Germans Ermics for cc-tapis
Ermičs has frequently participated in fairs such as Salone del Mobile, PAD, and Design Miami/ Basel. He was honoured by the Wallpaper* Design Awards in 2017, 2018, and 2021 and his work is regularly featured in the international press.
Join us and meet a young, international designer who will help you understand the importance of collaborations to explore material and color in a contemporary and forward-looking world.
Your event at Subtile:
Date: Thursday 23 November 2023
Start time: 6 PM
Duration: 1 hour
Price: FREE
Language: EN
Registration Appreciated